Custom-Built Trucks
'54 Kenworth ""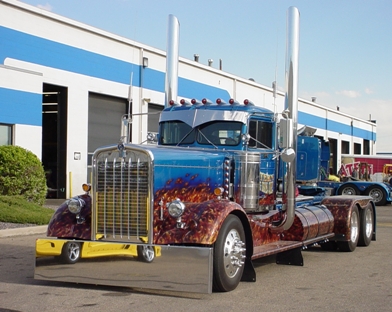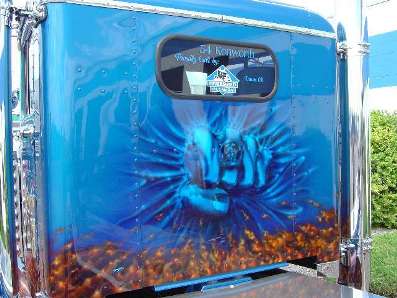 Back to Custom-Built Main Page
W

ell here we go again. If mom thought we were insane before she hasn't seen anything yet! As normal hot-rodders, we weren't on the way to buying another project, things just happen at the right time, the right place, and for the right price! Our fleet, being made up of only Kenworth's and Peterbilts, gave us the excuse to build 1 more to make it fair, if you want to look at it that way. We put the old Pete on the road to make some money with it and it was doing so well that we thought we would just let it continue to run and build Dino another truck to shuttle trailers to Coors on the weekend. Old Kenworths have a lot of character, especially in the fenders and cabs, so one thing we looked for was a truck that had good fenders. We knew this time that there were no reproduction fiberglass fenders out there that we knew of. Then one day Linda Shank called me then sent a letter with pictures of this fine machine that her father owned - only wanted $4500 for it! It was very dear to her father and to her and wanted a good home for it. She wanted to know that it was being taken care of. The truck was a 1954 Kenworth 250 Cummins (40,000 since overhaul), with jake brake, 5&3 with 2 speed rears, and was running and driveable – cool!!! Perfect!

We purchased it March 16, 2001 out of Entiat, WA. Stan tried to convince me that we would haul a load home with our new pride and joy. He said "Wouldn't it be just great that a truck you just paid $4500 for could bring in revenue right off the start!" Yes Stan, but did you see the pictures of the truck - who's gonna drive it in that shape? "Oh" he says, "Sub out a few bad tires with a few $50 recaps, and a little bit of wiring, and she will be fine for the trip home!" Ok then, who's gonna drive her home? Meanwhile everyone in the office disappeared except Stan. "I'll go get it!, It's nothing for a stepper!" Well, fortunately for us, we were able to convince Stan that it was better to flatbed her home pretty cheap and probably save us a lot of money in tires in the end! She could have probably made the trip but those tires, well let's just say they were good for holding air like they were and that was just about it. Take a look at the picture on the right and you can see it would have been a long 1300 miles home!!

She arrived in our yard one snowy, Sunday afternoon (thanks to Landstar for helping us out with a low rate to get her home!) where we pulled her off the flatbed then proceeded to take her for a spin around the block. She ran great! But we soon had to give up because we were loosing valuable parts (think she needed a tune-up), like mirrors, a door handle, and a battery box cover. But the horn, and the jake brake worked and that was the best part!!

One of the fun things that we learned from the first truck was about "mockups". When we mocked up the Pete it was with duct tape, cardboard and stretch wrap. Well, that's fine but it can't replace what you can do on the computer with Photoshop and having a little fun as we did here on the right. We were able to take various angles and cut and paste items just to see what certain things would look like. Now that we had our truck we had to start thinking about where to begin. In looking at the frame, it was in OK shape (aluminum and double framed of course) but that rubber pad suspension had to go. So we looked around trying to find a chassis to work with, that had ample amounts of wheelbase to it. We decided at this point that we were going to make this truck a daycab (no sleeper). We wanted a truck that could get around in the city a little easier, nothing against the '53 Pete but 300" is a lot of truck to hostel trailers around with in the city! Lucky for us used truck prices had just gone in the toilet. Finding a cheap chassis wasn't too hard, in fact we bought a whole wrecked truck for $8000! The cab and the sleeper were in good shape and we estimated we could maybe get $4000 out of those. What we found was a '94 Kenworth W900L with a 435E CAT, a 15 spd, 265" wheelbase, with air ride and 3:55 rear ends. That was gave us a good start!

Yea, I know it looks a little rough, but the purple beast on the right was perfect and cheap! Diversified Paint and Body, who does all of Western's body and paint work, was helping us orchestrate this whole deal. Mark and Larry made lot's of calls to help us find the chassis, check it out, get the axles into the frame, and get her on her way!
As you can see the cab and sleeper were sold off, the back axle had to be replaced. The frame was straight, the front axle needed some work, and that 435E just had to go! So in stripping things down, we got the axles back under it and inserted an Air Ride front end on it! Now what could we be doing with that?? Wait and see.

Next we stripped it down even more. We took off all but the tanks, took the engine and tranny out, with Kenworth's help, and sent it off to the sand blaster to clean up the frame!

Well, the fun stuff is yet to come! We picked up a brand new manual 425 CAT to replace the 435 and a 18 speed tranny. MHC Kenworth was now mating those two and going to paint them, while Diversified is getting the chassis blasted and is now in the process of painting the chassis. The radiator guys were over the other day, and isn't it interesting to point out that, after almost 50 years, the radiator on both trucks (excluding the air to air) is still 30" wide! There will be more to come here soon. So everyone asks, what are you gonna do, stretch the hood 30", slam it, & chop it?

November 8, 2002 update. Well it's been a whole summer and the '53 Pete has been busy out running the road, making money full time now, and attending over 6 events this year. It brought home 18 trophies - WOW! As for the '54 KW - well, it's been a little slow but we are making progress on her.

January 2002 - Diversified Paint and Body did an awesome job of stripping the frame of all unnecessary items, filling holes, putting an air ride front suspension under the old girl, and slappin' some paint on her. Then over to MHC Kenworth to get her 425 mechanical CAT motor (won't be 425hp for long!!). Then the cab got stripped and set on the chassis along with the fenders and then the mock-up process started. You can see how cool the fenders looked over the tires - lowwwww riderrr!!

February 2002 - The cab got worked over (pic on the right). The firewall and cab floor were eliminated and re-done completely. The steering column and clutch assembly tower from the '94 KW worked perfectly in the '54 and the fuse box will be used also. The floor has been dropped, flattened, stretched, and best of all the cowl stretched 12 inches!!!

March 2002 - Quite a bit of progress was made, cowl was done and smoothed over - air cleaners fitted, radiator/intercooler, was custom made and fitted by Denver Radiator. The back skin and a window was fitted, doors cleaned up and fitted, along with many other things. Again, as you can see, more mockups were done to check our progress and to see what this beast was gonna look like.

By now we are into May 2002 and it's sheet metal time. The hood needed to be rebuilt, and all our ideas had to come out so that the side skirts, fairing, and hood metal could be built at the same time. At this point in time I decided it didn't sit low enough. The only way to lower it was to chop the fenders and cut 2-3 inches out of them (poor guys probably hated me when I made that decision). So they did,....... and an awesome job they did at chopping them! Check out the pics above.

July 2002 we got the first parts of the sheet metal for the hood back and reworked the grill trying to straighten it back into shape to be re-chromed.

November 2002 - Things are really making progress. The hood is on, hinges work, running boards are on, side skirts are on, the fuel tanks work and she's really starting to look like something out of ZZ Top or like a hotrodder's dream truck. She sits about 10 inches off the ground and the lines are just about as straight and long as you could make them.

Since November all the tedious work has been going on, from running board brackets and reinforcements to "spec'ing" out the stacks - what size, angles, and height that are needed. But we are a few weeks away from paint now and are getting anxious!! Stacks have come in and are being mounted, and wheel configurations are being tried (24.5, 22.5, tire sizes....). We are awfully close here but still a long ways away, for we still have the final stages of wiring, plumbing, upholstery, and misc. fenders, flaps, lights, and fun stuff to go. Getting anxious here!!!

March 11, 2003 - Stacks going on!!!!

July 18, 2003 - Well, since the '53 Pete went in the paint shop, the KW went to the back burner for awhile. Now that the '53 is back out on the streets, the KW is getting all the attention. The frame has now been all touched up, wet sanded, and cleared. The cab parts, fenders, and hood have all been painted blue and are being put back together. As soon as she is "mocked up" our famous Pugh man will start air brushing over big blue to give her some real color!! Similar to what you saw on the '53 Pete??? Just wait and see what happens here!!!

July 31, 2003 - They've really made some headway the last week or two in preparation for John Pugh so he can put his magic on it!! The old emblem shines again!!

Aug. 25, 2003 - John Pugh worked his magic. Now everything has to be taken apart to be cleared 3-4 times.

Sept. 25, 2003 - Everything is cleared and ready to be put back on. We are now working on the mechanics of the truck - hooking steering, throttle, linkages back up, plugging wire looms in where they go and..... oh yeah.... the wheels are finally on it. Check them out!!


Nov. 5, 2003 - 1 WEEK AWAY

Time to go truckin' mom says!! - GET TO WORK!!!

Yes, she does work. Unfortunately every truck at Western does work - some more than others. This beauty works almost every weekend with its very proud driver, Dino Guadagni. "Inferno Joe" shuttles trailers to and from Coors and Swift, taking out empty trailers and bringing back loaded ones.

We are very proud to say that in May of 2004 we attended the Stars and Stripes Mid-America Truck Show in Louisville, KY and were awarded the Best of the Best trophies. The 2004 BEST OF SHOW AWARD!!!
Here Are More Pics of the Truck

| | |
| --- | --- |
| | |
| | |
| | |