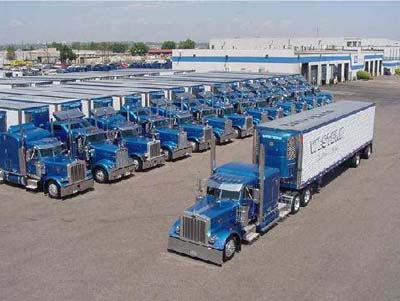 Solos

| Years of Service at Western | Pay/Mile |
| --- | --- |
| 15+ | $0.365 |
| 10-15 | $0.360 |
| 8-10 | $0.350 |
| 5-8 | $0.340 |
| 3-5 | $0.330 |
| 2-3 | $0.325 |
| 1.5-2 | $0.315 |
| 1-1.5 | $0.310 |
| 0-1 | $0.300 |
Teams
Per Driver
Combined
Years of Service at Western
Pay/Mile
Senority
Pay/Mile
8+
$.230
8+
$0.460
5-8
$.220
5-8
$0.440
3-5
$.210
3-5
$0.420
2-3
$.205
2-3
$0.410
1-2
$.200
1-2
$0.400
0-1
$.190
0-1
$0.380
USAC Teams
Per Driver
Combined
Years of Service at Western
Pay/Mile
Senority
Pay/Mile
8+
$.230
8-15
$0.460
5-8
$.225
5-8
$0.450
3-5
$.220
3-5
$0.440
2-3
$.210
2-3
$0.420
1-2
$.200
1-2
$0.400
0-1
$.190
0-1
$0.380
INTERESTED?
Toll Free at 1-800-922-2289
or Direct:
INTERESTED?
Toll Free at 1-800-922-2289
or Direct:
Western Distributing Transportation Corporation
Employment
Driving Opportunity
1-800-922-2289
303-294-3121 Recruiting Direct Number
Requirement Info:
Minimum of 3 years / 300,000 miles (Verifiable) OTR driving experience
Good MVR / Safety record + 25 years old
Class A CDL
Reefer Experience preferred
Paid PC Miler PRACTICAL Miles (not shortest) on ALL miles run (including deadhead!)
BENEFITS
Medical
Dental
Vision
Script Card
Life Insurance

Employees full coverage
option to add family members on

401K
Scholarship Program
Vacation
1 yr. = 2 weeks
10 yrs. = 3 weeks
20 yrs. = 4 weeks
Other
Assigned tractors (no slipseat)
Name on door of truck after 3 years of service
New truck every 3 years (450,000 miles), Driver selects most options on new trucks
Paid lumpers - Air - Ride tractors, and Air-Ride trailers!!!!
Drops/ Picks: $20 each after the first (miles between paid)
Motels: Teams, 1st night Solos, 2nd night (empty layover only)
Paid: Weekly (every Friday), Direct Deposit available
Equipment
Late model Pete'

s

and K/W'

s

(ONLY, NO JUNK!!!)
Big H/P Motors, 550 Cat'

s

Virgin tires on all equipment (NO RECAPS!!)
Deluxe Interiors
60" sleepers
Standup
Aerocabs
Turbo Wings
Option of W900L, 379, at time of order

Please click here for a list of eligibility requirements.
We are currently taking applications for Local Drivers, Regional Drivers, Owner Operators, Armored, OTR, and Team driving positions at this time.
Reefer Hiring Areas For Solo Drivers
Colorado, Washington, California, Southern Idaho, Nevada, Arizona, New Mexico, Oklahoma, Nebraska, South Dakota (Rapid City).